Introduction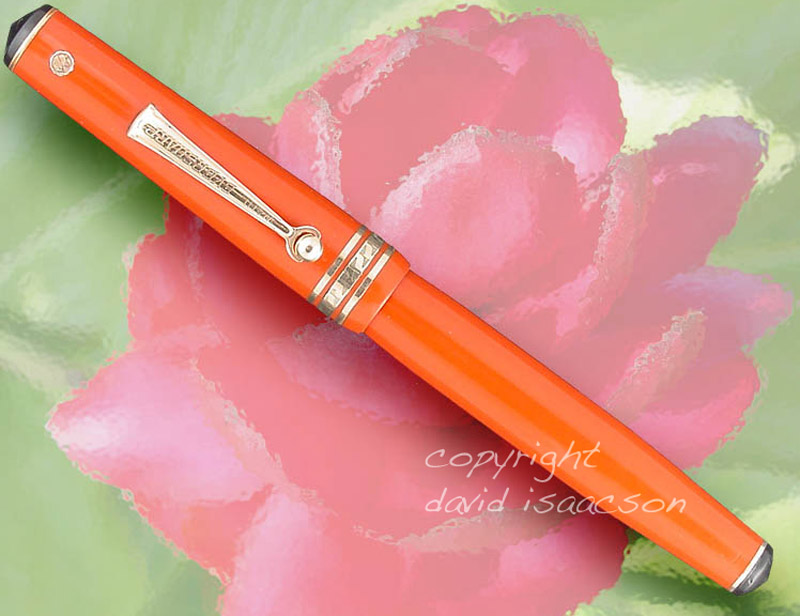 Wahl-Eversharp introduced its
Gold Seal Personal Point
pens in 1929, both as
"flat-top"
and
Equi-Poised
(streamlined). The original flat-top remained advertised into the next year. The streamlined Equi-Poised saw frantic evolution-- driven at first by legal threat from Sheaffer-- and ran through at least 1932. Most Gold Seal pens were made of plastic (Celluloid), though some of the flat-tops were done in "late" hard rubber.
"Red" hard rubber (which looked frankly orange) was used heavily by Parker, Waterman, and Wahl, less so by Sheaffer and Conklin. The color survived the transition to Celluloid (plastic) during the mid 1920s, still huge for Parker's Duofold, used a bit by Sheaffer and Conklin, but no longer offered by Waterman and not routinely offered by Wahl.
Though rare, orange plastic 1920s-early 1930s Wahls have been found, both as flat-top and Equi-Poised, pens which somewhat take the breath away of those who know what they are seeing. The Equi-Poised at right is the only orange plastic Wahl in my collection, a very lucky find that was part of a collection purchase back in 2003
Context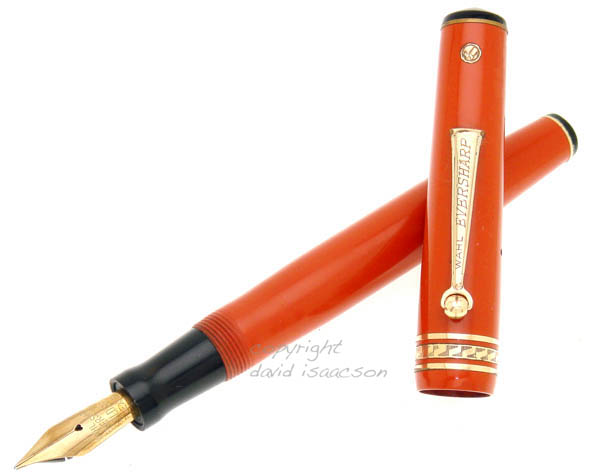 Collectors are blessed with a respectable number of Wahl catalogues, brochures, and adverts from the 1920s-1930s. Though orange ("red")

hard rubber

Wahl pens-- with both smooth and chased finishes-- are well known and were well catalogued, the orange plastic pens-- always smooth-- are not well known and were not catalogued. Note the black ends on the pens in this profile, a clue to identifying the orange plastic pens. Orange hard rubber Wahls have matching ends.

I joined the hobby in 1998, and by the time I found my one orange plastic Wahl in 2003, I'd already heard some of the hobby lore. Though paper still is lacking, an oral tradition long has been present. It is known that Denmark favored red (even orange-red) pens. Montblanc made "red" pens for that market. It seems the "red" (orange) plastic Wahls were made for that market as well.


The Story



Wahl collector Cliff Harrington recently offered details from his own research:



As far as I know there is no documentation one way or another. The imprint is "Made in Chicago USA". On the other hand this color does not appear in any US catalog or advertisement, and Wahl did not put special imprints on pens for foreign markets. The source of every Danish Red celluloid pen of which I am aware is Scandinavia.

According to Danish collectors, Benzon Trading Company, owned by Niels Benzon, the importer of Wahl Eversharp for Denmark, ordered a special run of red celluloid for the Danish market. Red was the most common color for Danish pens (including Parker/Penol and Danish Montblancs) and is considered the national color of Denmark. I think it is clear that these were Danish market pens.

Models/Variants





Prior to Cliff's post about this pen cluster over at the FB Group (see link to Group at top of page) I knew of two models, the long-standard (side-clip) Equi-Poised and the Decoband (collector term for the oversized Gold Seal Personal Point flat-top). I own the Equi-Poised and have handled perhaps two or three of the Decobands, at least one of which had a replaced cap-lip, another one horrifically worn. In a tragedy for our hobby, a few years back a few orange celluloid Decobands died in a pen restorer's fire. In addition to those two models, I might have seen a medium-standard (soldier-clip) Equi-Poised, and-- with Cliff's Facebook post-- I learned the long-standard flat-top exists as well.

Flat-tops apparently can be found with both the long and short clip variants.

Collector David Nishimura, in discussion at Fountain Pens Group at Facebook, offered:



Back in the 1990s quite a few Danish orange Wahl-Eversharps came through Bonhams in London, nearly all in terrible condition.
A remarkable collection

Most of us who have handled any orange Celluloid Wahl have seen just the occasional pen here or there, more often "there" than "here". In the August 2018 facebook chat, Cliff graciously offered peek at his personal collection of orange plastic Wahls, a collection built over a more than two-decade period. There is power in focused collections, and this is a particularly powerful mini-collection. I appreciate his letting me share.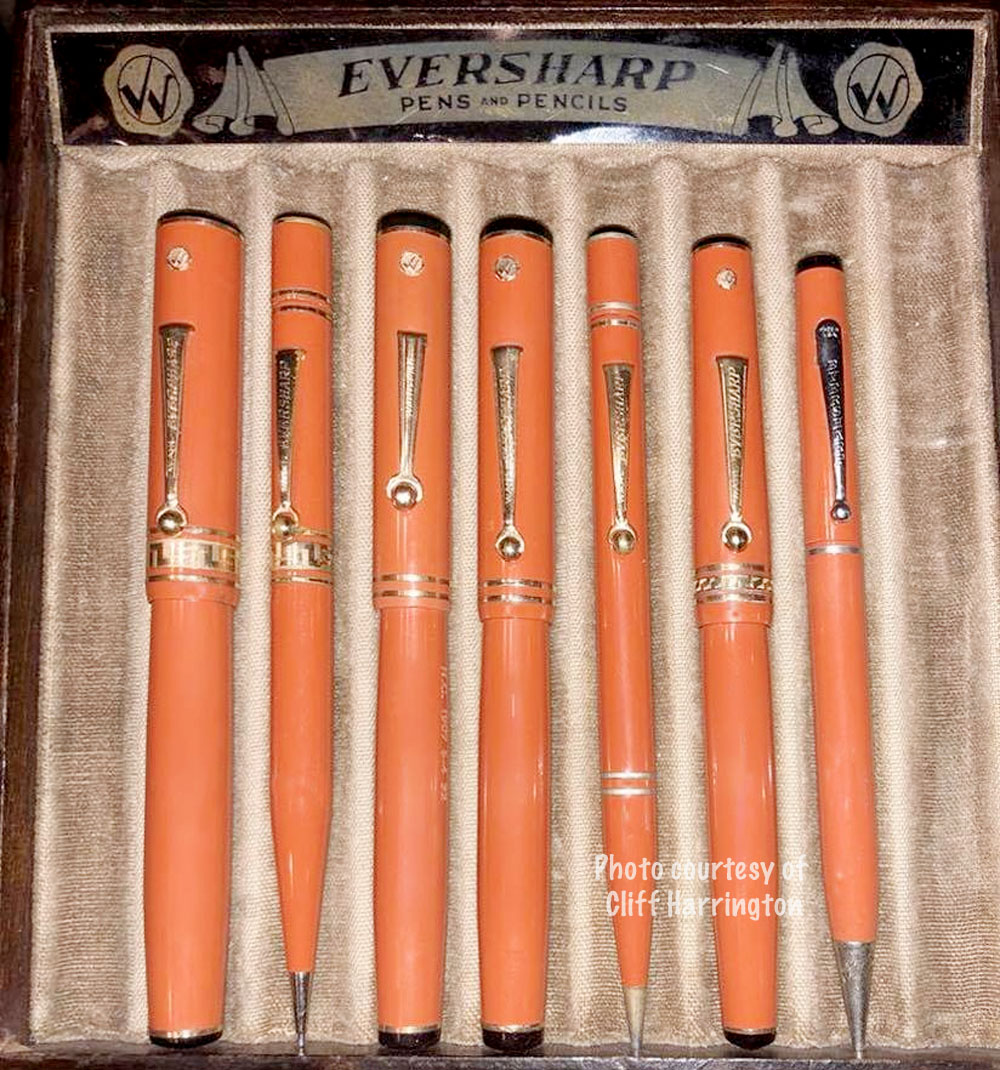 Collecting


The painful truth is that you likely never will own one of these. But "likely never" offers some wiggle room. You never know what might turn up on dealers' websites, on ebay, or at pen shows. Be careful with these. Check for cracks in cap lip, by lever slot and at clip insertion. Check that threads are intact and functioning well. Price of course should depend on condition, but it is a seller's market. If you do pass on one, it might be a long time until another comes into play. If you have more info about these, do share. I'll add it to the profile. If you find one of the orange plastic Wahls, pens meant for the Danish market, cherish it. Most serious Wahl collectors don't have one. I would not mind expanding my personal collection, currently consisting of the one Equi-Poised. If you find an orange plastic Wahl and don't want it... do give me a yell.